In a growing number of settings, product development is based on standardized tools that make it easier than ever to create a product and bring it to market. In the context of software development, no-code or low-code tools are increasingly being used to create software applications, instead of writing the base code. These tools simplify the product development process by providing core technological functionality in the form of different modules. Utilizing such technologies is intended to free up firm resources to create better products. However, this may come with unintended consequences.
What is the context of our work?
In our paper, we studied the use of development tools (game and physics engines) in the console video game industry. To gain competitive advantage, most platforms strive to offer the best possible products for their platform (i.e., complements). To achieve this, many platform owners encourage the use of third-party development tools, such as game engines used to create games or software development kits used to create mobile apps.
We focus in particular on the period where standardized development tools (i.e. game engines) were first introduced to the console video game industry. These components provided the basic building blocks for video games, which would have instead had to be manually coded by programmers. We study how the use of these tools impacted the types of products that were created.
What are our findings?
We discover that the use of these tools was associated with products that were on average more successful (i.e. generated greater sales), but at the same time they were less novel and innovative. We illustrate this in the figure below, but the results are robust across a variety of alternative analyses.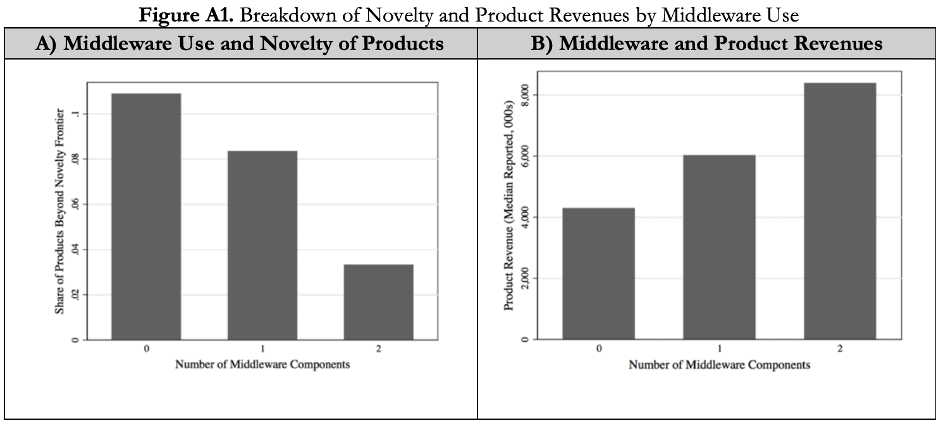 What is our explanation?
The games building upon standardized tools, on average, had higher sales because modular plug-and-play architecture of these tools make it easier and less costly to create a product (including the cost of experimenting and creating prototypes) than writing the code from scratch. Additionally, this modular design helps companies overcome delays, and develop different parts of the game in parallel. Finally, it provides consistency and reduces variability because these tools have been widely used and numerous errors have been fixed.
However, these tools have limitations, and this makes it difficult to customize the products beyond what the tools will allow. As a result, using these components leads to products which are less novel (or more similar to those already in the market).
Implications of our findings
Companies are increasingly using standardized development tools in the form of low-code or no-code tools. Outside of software, in a variety of industries, there is a growth of tools replacing tasks and processes performed by humans. While these tools may provide benefits especially with reducing costs in the short run, it is important to note that these tools may also come with limitations. In the context of our analysis, we find that the use of these tools is associated with lower novelty which has important implications for creative industries and platforms where novelty is often sought after. At the platform level, our findings highlight the importance of limiting the extent to which the platform ecosystem is basing its products on these standardized tools.
about the authors
Milan Miric is an Assistant Professor at USC Marshall School of Business. His research interests are around strategy for digital platforms and innovation in digital marketplaces.
Hakan Ozalp is an Assistant Professor at Amsterdam Business School, researching the intersection of digital platforms, technological change, and innovation strategy.
Erdem Dogukan Yilmaz is an Assistant Professor at Rotterdam School of Management, with research interests around digitization, artificial intelligence, and open innovation.
Miric, M., Ozalp, H., & Yilmaz, E. D. (2022). Trade-offs to using standardized tools: Innovation enablers or creativity constraints? Strategic Management Journal, 1– 34.