Innovative Strategies for an Open World
Organizational leaders today make strategy in an increasingly open world. Leaders face growing calls for transparency and accountability. Traditional hierarchies are including even more diverse voices and perspectives. Organizational boundaries are becoming increasingly permeable and fluid. Markets and industries are open to new competitive and disruptive forces. Sources of advantage are more visible and open business models are widespread.
Openness can deliver many benefits for organizations and society. In a knowledge-based economy characterized by competitive and dynamic markets, valuable insights and innovations are increasingly likely to come from the periphery of organizations rather than from managerial elites at the centre. The complexity of contemporary issues, and the proliferation of wicked problems, demands the inclusion of previously excluded viewpoints and enlisting stakeholders from outside traditional organizational boundaries.
Today's Societal Grand Challenges require innovative partnerships across organizations and geographies if solutions are to be found and implemented. The SMS 42nd Annual Conference called for research contributions that will help organizations create innovative, sustainable, and resilient strategies for this more open world.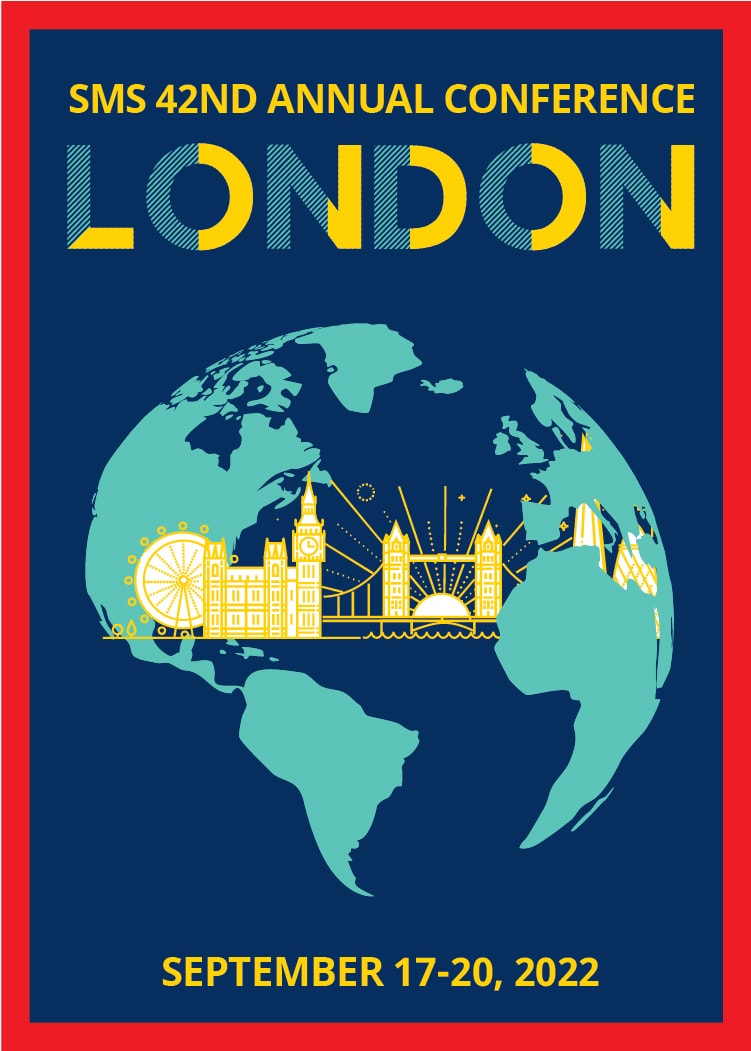 Conference Program Chairs

Jamie Cattell (IBM Corporation)

Anu Wadhwa (Imperial College London)

Richard Whittington (University of Oxford)
Meeting Date
September 17-20, 2022
WANT TO LEARN MORE?
Take a quick peek at our event recap to catch up on all the exciting moments from our recent gathering!
"We are excited to invite you to the SMS 42nd Annual Conference – in person, in London!
The SMS Conference offers Academics, Managers, and Consultants a unique opportunity to learn about cutting-edge practice within the strategy domain, to engage around the latest research, and to network with colleagues from around the world. Our panels will showcase innovative practitioners in close dialogue with leading scholars. We shall offer a variety of formats, including developmental workshops for junior scholars, to present and discuss research and practice. The intimate back drop of a single hotel venue, together with curated social events, fosters opportunities for conversation and exchange of ideas in an informal setting.
London could not be a better place for us to meet physically for the first time since 2019. The city perfectly matches our conference theme of Innovative Strategies for an Open World. London is an innovative city, the centre of thriving ecosystems in artificial intelligence, edtech, fintech, and much more. London is also an open city; its history as a parliamentary democracy being a testament to transparent governance and openness. Finally, with more than 250 languages spoken in the city, London's renown as an international hub makes it a capital of diversity.
London provides an inspirational locale for ideas and conversations on key issues in strategy. But it is more than this. London is also a collection of villages, with areas such as Dulwich, Hampstead, and Little Venice offering the feel of unique and nested communities within the heart of Western Europe's largest city. It is a green city, with nearly as many trees as people. It is a walkable city, whose parks cover a greater area than all the roads and railways combined. London is also the home of iconic buildings from Big Ben to the Shard and of innumerable galleries, museums, and music venues.
London is well connected by train to Europe and by plane to nearly every corner of the world. The weather is better than you might expect – you should catch the last of the summer, with an average 150 hours of sunshine in September. London offers not just the classics of English cuisine, but all the rich culinary diversity of its multicultural population.
London and the Strategic Management Society offer you a great welcome in September 2022. We look forward to seeing you here!"