Imagination and Inspiration: Creating Strategy Breakthroughs in a Discordant World
Imagination and inspiration in business scholarship and practice are needed today more than ever. Our world of business performance and social welfare faces multiple discordant shocks, including climate crises, immigration barriers, technological expansions and shifts, supply chain disruptions, political realignments, trade transformations, and a global viral pandemic. Tackling these challenges requires novel solutions that build on a dynamic combination of imagination and inspiration.
Imagination and inspiration are intimately intertwined. According to Merriam-Webster, imagination is "the act or power of forming a mental image of something not present to the senses or never before wholly perceived in reality," while inspiration is "the action or power of moving the intellect or emotions." Together, these forces can respond to discord by creating new images and then inspiring action in response to the images.
The theme for the SMS 41st Annual Conference encouraged individual and collective imagination and inspiration toward tackling the discordant challenges we face in strategy scholarship and practice. The theme signaled the desire for novel combinations of imagination and inspiration that proactively respond to and even shape discord.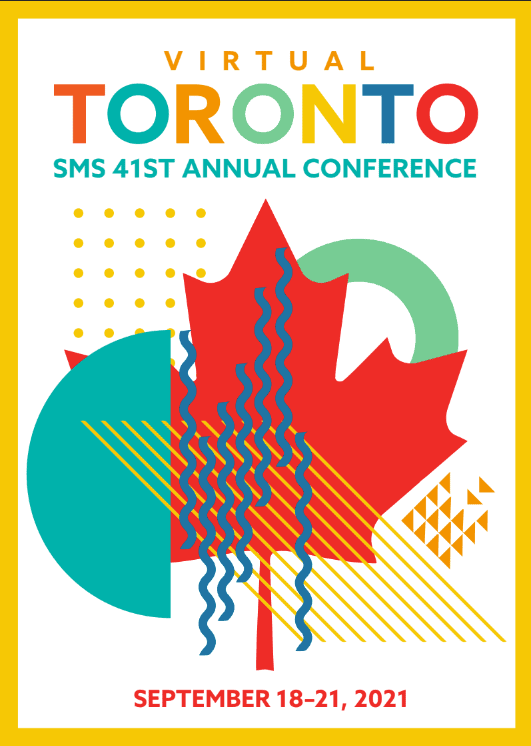 Conference Program Chairs

Mary Crossan, Western University
Will Mitchell, University of Toronto
Joanne Oxley, University of Toronto
George Stalk Jr, Boston Consulting Group
Meeting Date
September 18-21, 2021
Meeting City
Virtual Toronto
Dear Colleagues:
We are delighted to kick off the SMS 41st Annual Conference, to be held virtually in September 2021!
The 2021 conference will build on our learnings from the rapid shift to virtual that the SMS launched in 2020. We expect that the 2020 initiative will help us discover new opportunities to reshape the conference format and content, both to enrich the global impact of our research and to push forward with SMS's goal of engaging more deeply with the strategic practice communities.
This goal is very much in keeping with the theme of the 2021 conference, "Imagination and Inspiration: Creating Strategy Breakthroughs in a Discordant World." We are excited about the opportunity to work with you to get past the current discord and exercise our collective imagination and inspiration to push forward to insights about the understanding and practice of strategic management.
The "virtual Toronto" location for the 2021 SMS Annual Conference, is also quite appropriate. Within the "Imagination and Inspiration" theme, we are highlighting four all-conference tracks: (1) Connectivity; (2) The reality of climate change; (3) Cross-border flows of products, services, and people; and (4) Market and political transformations. Each of these subthemes is highly relevant for Canada – and for Toronto as the largest city in the country. Indeed, as an economically and socially vibrant location, as well as perhaps the most diverse city in the world, Toronto embraces the joys and challenges of each of these themes. We hope that a conceptual experience of the city is evoked through the exploration of these topics.
This will be an outstanding conference. We know you will be deeply engaged in conversations and debates about strategy research and practice.
We look forward to seeing you and talking with you virtually.